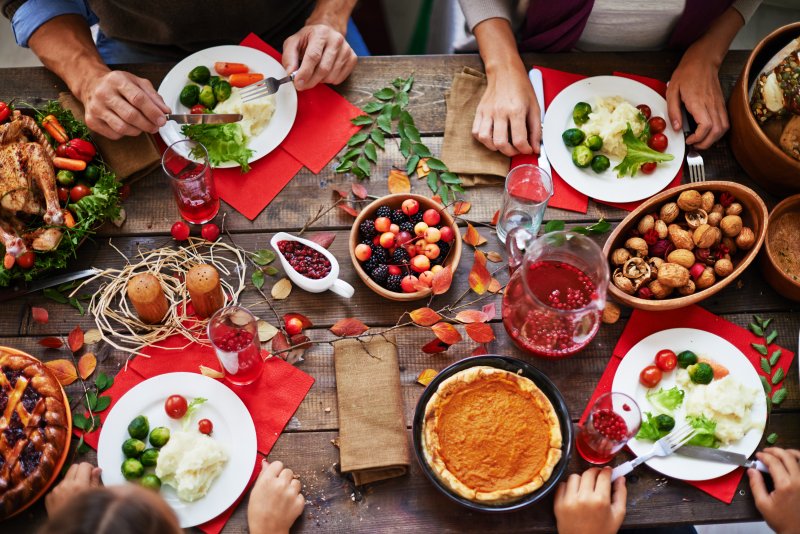 When you think about it, braces are quite an incredible invention. With the use of metal brackets and wires, your dental team can maneuver your teeth into the ideal position, resulting in perfectly straight teeth. However, to stay on track with your treatment and avoid any potential injuries from a broken wire, patients are given a list of food restrictions to abide by. Don't worry though! You can still enjoy all the holiday festivities with the below foods that your teeth and taste buds will love.
14 Delicious Braces Friendly Foods
Although the holidays may look a bit different this year, the copious amounts of food certainly haven't changed! And just because you have braces doesn't mean you need to fill your plate with bland, soft, boring foods this year. Instead, opt for these braces-friendly options:
Turkey and other meats (just make sure they are tender and off the bone)
Mashed potatoes
Cooked yams
Roasted, steamed, or cooked vegetables
Corn off the cob
Green bean casserole (without almonds)
Cranberry sauce
Soup
Macaroni and cheese
Biscuits
Soft cheeses
Pumpkin pie
Brownies without nuts
Ice cream
A Few Foods to Stay Away From
From candied pecans and peanut brittle to caramel apples, the holiday season is filled with foods that spell disaster for your braces. All it takes is one wrong bite for one of these treats to turn your otherwise enjoyable afternoon into an urgent trip to your dentist's office. Fortunately, you can prevent that from happening by avoiding these foods:
Nuts (and foods with nuts in them)
Raw veggies
Hard candy, like toffee and candy canes
Tough gingerbread cookies
4 Additional Best Practices for Caring for Your Braces
Loading up your plate with the right foods is important, but that's not the only way you can keep your braces in pristine condition. Whether you are traveling out-of-town to spend time with loved ones or laying low this year, continue to be diligent about the below best practices:
Brushing your teeth after every meal and snack
Flossing daily
Cleaning your tongue
Attending each of your follow-up appointments for adjustments
The holidays just wouldn't be the same without lots and lots of food, and your braces shouldn't stop you from indulging. Just make sure to fill your plate with braces-friendly options and leave the other sides dishes for next year.
About the Practice
Simply Orthodontics is home to not one, but two board-certified orthodontists, Dr. Colleen Kristofor and Dr. Sam Alkhoury. Combined, they have more than five full decades of experience helping patients achieve their unique smile goals! So, whether you are struggling with minor misalignment or severe crowding, you can have peace of mind trusting them with your smile. If you have any questions about caring for your braces this holiday season or would like to begin treatment before the new year, visit our website or give us a call at 508-839-9350.