Invisalign – Grafton, MA
The Clear Path Towards a Straighter Smile
You don't need to be an orthodontist to understand why teens and adults don't want to get metal braces even if their teeth are misaligned. As effective as they are, when you have braces, everyone can tell! Thankfully, you or your child can now enjoy perfectly straight teeth without having to endure a noticeable treatment for years at a time. Invisalign is discreet and proven to deliver lasting results when applied by the experts at Simply Orthodontics Grafton. To see if virtually-invisible treatment with Invisalign in Grafton, MA would be right for you or your teen, give us a call today.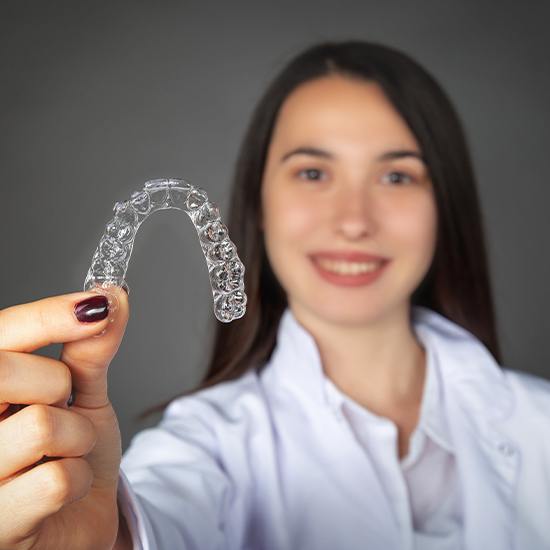 How Does the Treatment Process Work?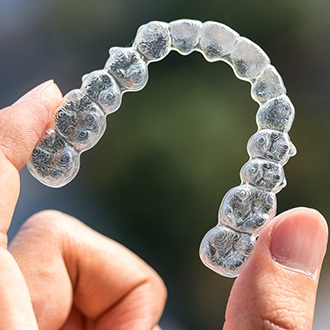 With Invisalign, the teeth are straightened using a progressive series of clear plastic aligner trays. They almost look like very small athletic mouthguards, accept they are completely translucent. A patient wears one set of trays for about 20 hours a day for two weeks before progressing onto the next. Once they have gone through their entire series, there should be a beautifully straight smile whenever they look in the mirror.
What Can I Expect During Treatment?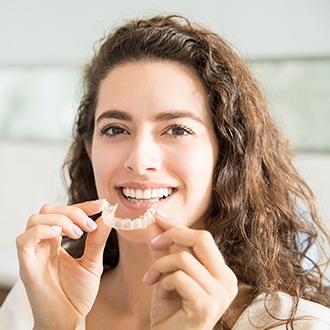 The biggest advantage of Invisalign is that when you're using it, no one around you will be able to tell. While smiling, talking, or laughing, your teeth will appear completely normal thanks to the clear trays. Even better, you can take them off whenever you need to eat or brush your teeth. This means, unlike with braces, you won't have to adjust your diet or spend extra time brushing or flossing.
We'll ask you to visit us every few weeks so we can check on your teeth's progress. On average, treatment tends to take about 12-18 months to complete, which is much shorter compared to braces.
Am I Eligible for Invisalign?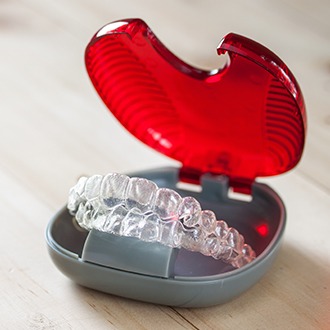 We typically recommend Invisalign for older children and adults only. Because young children's mouths are still growing and developing, braces tend to be a much better fit. It should also be noted that severe orthodontic issues, such as pronounced overbites or underbites, can sometimes only be corrected using braces. All in all, most of the people who are interested in Invisalign are good candidates for it, but we can give you a definitive answer when you come to see us for a consultation.
Understanding the Cost of Invisalign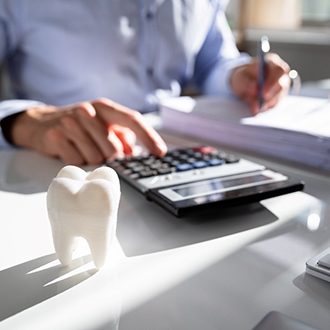 Naturally, the cost of Invisalign in Grafton is something you want to know before committing to treatment. After all, the price is an important factor in determining which teeth-straightening service is right for you! However, determining an accurate cost without a consultation is nearly impossible. The good news is that we're reviewing some important factors that influence the final answer right here.
Factors That Affect the Cost of Invisalign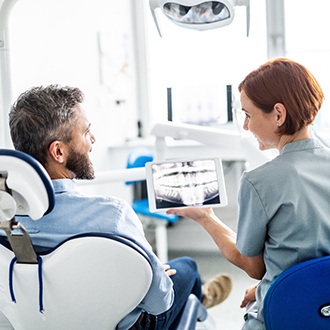 When you meet with our Grafton orthodontists, they will examine your smile to determine:
The severity of your misalignment
How many trays are needed to straighten your teeth
Whether you need to address one arch of teeth or both
If additional accessories, like rubber bands, are needed to achieve your smile goals
These will all play a role in the upfront cost. It's worth noting, however, that the price is subject to change if you fall off-track with your original treatment plan. For example, if you consistently misplace your trays or neglect to wear them for 22 hours a day, there is a good chance you will need to pay for additional aligners and/or re-treatment. So, it's beneficial for your smile and your wallet to follow all of the Invisalign best practices!
Invisalign vs. Smile Direct Club™: Which Costs More?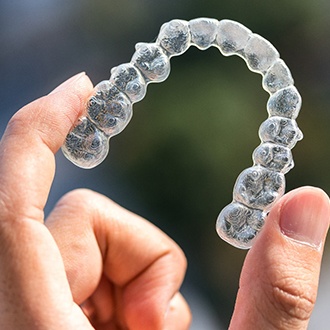 Smile Direct Club™ and other DIY braces companies often advertise a starting price of $2,000, which is lower than Invisalign. What they don't advertise, however, is the numerous outstanding lawsuits they have from unhappy patients who experienced worsened misalignment, broken teeth, and the like. Plus, they do not have support from notable organizations, like the American Dental Association. Conversely, Invisalign has successfully helped more than 12 million patients. Each treatment is overseen by a skilled and licensed professional, like Dr. Alkhoury and Dr. Smith, ensuring your progress is closely monitored and you always have somewhere to turn if you have a question or concern. In short, Invisalign may cost more, but it's worth it when it comes to something as important as your smile.
Does Dental Insurance Cover Invisalign?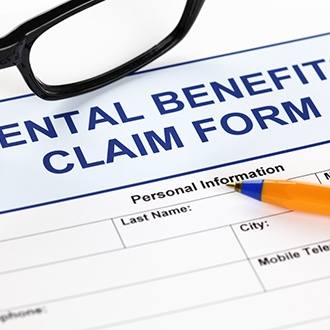 Sometimes, yes! Of course, the answer will depend on your unique dental plan. However, many do include a once-in-a-lifetime benefit that covers a portion of the cost of your Invisalign treatment. If you're unsure how to find this information, don't hesitate to ask our team during your initial consultation. We have experience working with Guardian, Humana, MetLife, and many others, ensuring we can make utilizing any available benefits you have as easy as possible.
Options for Making Invisalign Affordable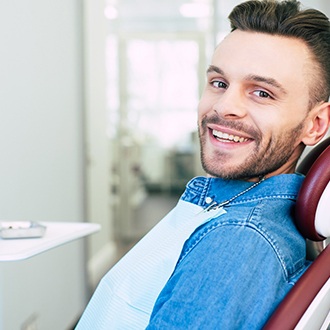 If you don't have dental insurance, don't worry – there are other ways to make Invisalign in Grafton more affordable:
CareCredit – A trusted third-party financing company, CareCredit allows you to space out your payments instead of paying for the entire thing upfront. Even better, there are low-to-no interest options available for qualified patients!
Special Offers – Our patients can take advantage of periodic specials, like $550 off Invisalign! To learn about our latest offers, get in touch with our team.
Invisalign FAQs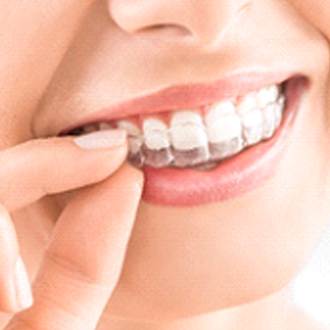 Want to ensure your Invisalign aligners remain clean? Ready to learn why it's necessary to wear your trays according to your dentist's instructions? Curious as to whether professional treatment with Invisalign is actually better than a mail-order system? You can receive the answers to these questions and many more here at Simply Orthodontics in North Grafton. Our team of experts will provide you with the insight and information you need to feel confident about your treatment. From start-to-finish, we will be right here with you to answer your questions and address any concerns. Please don't hesitate to contact us when additional questions arise.
Why is Invisalign better than one of the many mail-order systems?
When weighing your options as to how you want to go about receiving orthodontic treatment, you may be tempted to try one of the many DIY mail-order systems that promise life-changing results. Unfortunately, these can cause patients to experience more problems along the way and ultimately, require the help of a professional orthodontist.
To avoid the pitfalls that often come with mail-order solutions, here are a few reasons why Invisalign is the better option:
You will work one-on-one with Dr. Smith or Dr. Alkhoury, receiving personalized treatment based on your needs.
Our team will be with you from start to finish, answering your questions, addressing your concerns, and ensuring your progress is moving along as it should.
Should a problem occur while undergoing treatment, our team is available to fix the problem in a timely manner to help you avoid a delay in seeing finalized results.
The system we use to capture impressions is guaranteed to produce comfortable aligners that are easy to put on and take off.
How should I plan to clean my aligners?
There are two options when it comes to cleaning your aligners: purchasing the Invisalign Cleaning Crystals system or using a soft-bristled toothbrush, clear soap, and lukewarm water. Ultimately, the decision is yours, but if you prefer to avoid additional costs, you can remove bacteria, food particles, and other debris from your trays using the same products you use to clean your teeth.
There are a few key things to remember when it comes to wearing Invisalign and keeping them clean, such as:
Do not use toothpaste, as it is often too abrasive and can scratch your aligners. This will cause them to lose more of their transparency, making them more visible to others.
Keep them in a protective case when eating or drinking. This will keep you from losing or damaging them.
Never use hot water on your aligners, as this will warp the plastic.
Clean them regularly to avoid bacterial build-up on your trays.
Why is it necessary to wear the trays 20-22 hours each day?
While each case is different, and each person can expect to see results at different times, it is necessary to wear your trays at least 20-22 hours a day to avoid a delay. The continuous pressure placed on your teeth is required if you want them to shift into the desired location.
While you are advised to remove your aligners before eating or drinking (anything but water), you can remove them for a special event; however, you should reinsert them as soon as possible.
Will I need a retainer after wearing Invisalign?
Yes, you will need to wear a retainer after completing Invisalign treatment. This unique oral device helps to keep your teeth in their new location, preventing them from shifting back to their original spot. Our team will go over the necessary instructions regarding how to wear your retainer as well as how long. It is not unusual to wear your retainer all the time in the beginning; however, once we feel your smile is in a more permanent location, you may only need to wear your retainer at night while you sleep.
Our team at Simply Orthodontics understands this is an added expense, but we will be happy to check with your dental insurance you as well as recommend flexible financing should you need it.