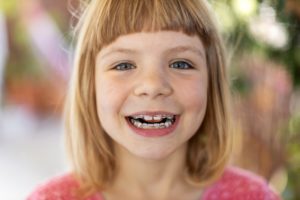 If your child just lost their first few baby teeth, you're probably not wondering if they need braces quite yet. However, you should be! In fact, experts recommend that children get their first orthodontic checkup when they turn seven years old. This gives the orthodontist a good idea of whether your little one will need treatment in the future. However, there are some signs to look out for that could mean you should schedule that visit even sooner. Here are seven of the most common indications that your child may need braces.
1.) Early or Late Loss of Baby Teeth
Baby teeth hold space in the jaw for the permanent teeth and help them come in correctly. If your child loses a baby tooth prematurely, then the surrounding teeth could shift into the gap and trap the adult tooth underneath. Similarly, if a baby tooth is lost later than expected, the permanent tooth underneath may come in skewed.
2.) Prolonged Thumb Sucking
Thumb sucking before the age of four is normal and nothing to be concerned about. However, if your child is still sucking their thumb after the age of six, the extra pressure could influence how the roof of their mouth forms and the angle that the permanent teeth come in.
3.) Breathing Through the Mouth
Does your child breathe through their mouth a lot? This may be because their teeth or jaws don't come together correctly, which can transform into bite problems and jaw issues in the future.
4.) Difficulty Chewing or Biting
Chewing or biting can be difficult for your child if their teeth or jaws are misaligned. Take note if they seem to frequently bite the inside of their cheek unintentionally.
5.) Crowded or Overlapping Teeth
Perhaps the most well-known sign that a child needs braces is crooked teeth. Baby teeth that are crowded, overlapped, leaning or wayward can lead to severely misaligned permanent teeth.
6.) Misaligned Jaw or Bite Problems
Bite problems like overbite, underbite and crossbite are very common orthodontic issues for children. When top or bottom teeth stick out much farther than they should, they're put at a much higher risk of dental trauma or injury.
7.) Spaces or Gaps Between Teeth
Another well-known indication that a child may need braces are spaces or gaps between teeth. These small areas can trap food particles and plaque, which leads to a much higher risk of oral health issues like tooth decay and gum disease.
Of course, the only way to know for sure that your child needs braces is to visit an orthodontist. If you notice any of the above signs, don't hesitate to get in touch with them right away to ensure your child's smile stays happy and healthy from the start.
About the Practice
At Simply Orthodontics in North Grafton, we're proud to offer orthodontic treatments for every stage of life. This includes pediatric braces, which can help correct orthodontic issues as early as possible to prevent serious problems that require invasive treatments later. Our highly experienced team will create a custom treatment plan with your little one's oral health and comfort in mind and make sure it goes as smoothly as possible. To learn more, we can be contacted online or at (508) 839-9350.