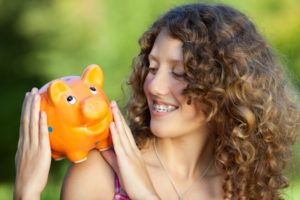 Many people choose to get orthodontic treatment like braces because they want a beautifully straightened smile. After all, studies show that straighter teeth can improve your social life, self-esteem and even your career! However, some patients are hesitant about spending money on a treatment they see as purely cosmetic. What they may not realize is that correcting orthodontic issues is about much more than changing your appearance. In fact, braces can end up saving you a substantial amount of time, money and hassle in the long run—here are five ways how!
1.) Spend Less on Dental Care
Crooked teeth easily trap food debris, plaque, and bacteria. As these particles accumulate, they dramatically increase your risk of problems like tooth decay and gum disease. Straightening your teeth and eliminating these spaces can help prevent oral health issues and lower the cost of caring for your smile.
2.) Avoid Tooth Loss & the Cost of Rebuilding Your Smile
Misaligned teeth are notoriously difficult to floss and tend to collect plaque and bacteria near the gumline. This combination is a recipe for gum disease, which is the leading cause of tooth loss in the US. While there are plenty of tooth replacement options to choose from, it's much more cost-effective (and less troublesome) to lower your risk of gum disease by investing in an orthodontic treatment instead.
3.) Protect Your Pearly Whites from Damage
If your bite or teeth are misaligned, some of your teeth are being subjected toe extra wear and tear as you eat, talk and go about your daily like. As the enamel wears down, your teeth will become weaker, sensitive, and more vulnerable to chipping and cracking. Realigning your teeth and jaws will even out the pressure, protect your teeth and save you money on expensive restorations.
4.) Prevent TMJ Disorder
When you have bite problems such as an overbite, underbite, or crossbite, eating and talking places extra stress on your jaw joints. Over time, they'll become sore and you may have a harder time chewing your food. Eventually, an uneven bite can lead to a painful and disruptive jaw condition called TMJ disorder, which sometimes needs to be treated with surgery. Fixing your bite problem with braces will save you the headache of this issue and the money needed to address it.
5.) Improve Your Overall Health
Improving your smile with orthodontic treatment naturally encourages better oral health, which studies show can be beneficial to your overall health. Healthy teeth and gums have been linked to a lower risk of systemic conditions like diabetes, memory loss and arthritis. In fact, some studies have found that those with better oral health tend to pay less in cardiovascular care costs that those with unhealthy smiles.
Investing in an orthodontic treatment is about a lot more than just boosting your appearance. When you get the straighter, healthier teeth you deserve, both your smile and your wallet will thank you in the long run!
About the Practice
At Simply Orthodontics, we're committed to helping our patients in North Grafton and the surrounding communities achieve the happy, healthy and beautiful smiles they deserve. As the first place winner of the 2020 Best of the Best in MetroWest from the Official Community Choice Awards, we're proud to offer a wide variety of services to help you overcome any orthodontic issue you face. To learn more about how a straighter smile can improve your life, we can be contacted online or at (508) 839-9350.