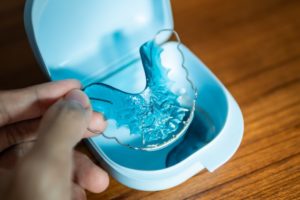 While completing your series of Invisalign aligners or getting your braces off is an exciting milestone, it's not the last step of your treatment! The final step on your journey towards a straighter smile is wearing and caring for your retainer. After all, you worked hard to achieve the results of your orthodontic treatment! A retainer will help you "retain" your beautifully straightened teeth for the rest of your life. Here's everything you need to know about wearing and caring for your retainer.
Wearing Your Retainer: Why It's So Important
To fully appreciate why wearing your retainer is important, lets take a closer look at how orthodontic treatment works. You already know that braces and clear aligners place specific amounts of pressure on your teeth to gradually shift them into their ideal positions. But if your teeth are anchored firmly into your jawbone, how do these treatments move them? The pressure they place on the visible crowns of the teeth is transferred to the roots of the teeth. As the root structures begin to move, the jawbone and gum tissue break down and reform around them in order to adapt.
This process is a very gradual one, so your jawbone and other supportive tissues will still need time to heal and strengthen around the roots of your teeth even after you've completed your orthodontic treatment. In addition, the shape of your mouth and jaws will continue to naturally change shape over the years. Your retainer is essential for holding your pearly whites in the right places throughout all these changes so you can continue to enjoy a beautifully straightened smile.
Caring for Your Retainer: Easy but Effective Tips
If you want to make the most of your orthodontic results, it's important that you take care of your retainer to help it last. Here are a few easy but effective retainer care tips to keep in mind:
Keep it clean: Make sure to brush and clean your retainer at least once a day to prevent bacteria buildup and minimize your risk of oral health issues.
Use the right tools: Only clean your retainer with a soft-bristled toothbrush and a gentle soap that's been approved by your orthodontist. Never use hot water, harsh chemicals, or the dishwasher to clean your retainer, as these could warp or break it.
Keep your retainer case handy: Since you won't be wearing your retainer constantly, it's essential to keep it in the same safe spot regularly so that you don't accidentally lose it.
Follow your orthodontist's instructions: Your orthodontist will let you know how often and for how long you need to wear your retainer over the coming weeks and months to ensure your results last!
Don't underestimate your retainer: this little appliance plays a big role in how long the results of your orthodontic treatment last! Wearing and caring for your retainer properly will help you enjoy a beautiful and healthy smile for the rest of your life!
About the Practice
Simply Orthodontics Grafton is proud to provide 100% personalized, state-of-the art treatments for smiles of all ages. From traditional braces to Invisalign and every orthodontic service in between, our talented team has everything you need to overcome crooked teeth, bite issues, and much more! What's more, every one of our treatments comes with our orthodontic guarantee. For just a small co-payment, you can replace your lost or broken retainer up to four times a year with our RETAINERS FOR LIFE program! To learn more, we can be contacted online or at (508) 839-9350.