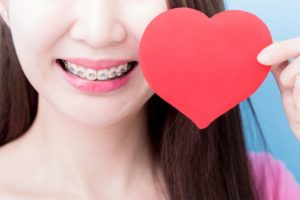 Have you just started wearing braces, or do you plan on starting your treatment soon? If so, you already know that this traditional orthodontic treatment requires a few adjustments in your day-to-day life. You know to avoid snacking on certain foods and to take extra care when flossing, but have you thought about kissing with braces? Thankfully, you don't have to sacrifice romance on your journey towards a straighter smile! Here are three important kips to make kissing with braces a pleasant experience for both you and your partner.
Tip #1: Keep Your Smile Clean
No one wants to kiss someone with bad breath, whether you're wearing braces or not! That's why it's essential that you practice great oral hygiene every day when wearing braces. Food and bacteria can easily get trapped between the brackets and wires, and the accumulation of these stinky particles can give your breath a lingering foul odor.
Make sure you're doing your part to stay kissable by brushing for two minutes twice a day, flossing daily, and rinsing with mouthwash regularly. If you can, try cleaning your teeth and braces after each time you eat and drink plenty of water throughout the day. You can also talk to your orthodontist about which products they recommend for making oral hygiene with braces easier.
Tip #2: Take It Slow
Braces take some getting used to. Now that there are brackets and wires on your teeth, you'll need some time adjusting to brushing, flossing, eating, and speaking with braces. It's completely fine if you don't feel ready for the adventure of kissing with braces right away! Just like romance itself, there's no need to rush into anything you're not ready for.
When you do feel ready, start slow. Being gentle while kissing is crucial for the safety of both you and your partner. Consider starting with kissing with closed lips, being very careful not to bump your braces against the inside of your lips, which could scratch them. If you start open mouth kissing, go slow. Do your best to keep tongues away from your braces and don't let your braces touch your partner's teeth.
Tip #3: Used Dental Wax
Dental wax is a wonderful tool for making everyday life with braces more comfortable, and that includes kissing! Cover up those rough and potentially dangerous spots in your smile with dental wax to prevent snagging lips and scratching enamel. This simple, biocompatible material can go a tremendously long way in putting you and your partner's minds at ease so you can focus more on kissing. As an added bonus, dental wax is typically opaque so it won't stand out at all!
As long as you take a few simple precautions, you don't need to give up romance while you straighten your smile. Just keep these simple tips in mind for kissing with braces!
About the Practice
At Simply Orthodontics at Grafton, we're proud to offer a variety of the latest orthodontic treatments for smiles at every stage of life. Our team of orthodontists use 100% customized treatments that fit into your lifestyle, so getting the healthier smile you deserve is easier than ever. Plus, our experts will be with you every step of the way with suggestions and recommendations to make your treatment go as smoothly as possible. For more tips about wearing braces, we can be contacted online or at (508) 839-9350.