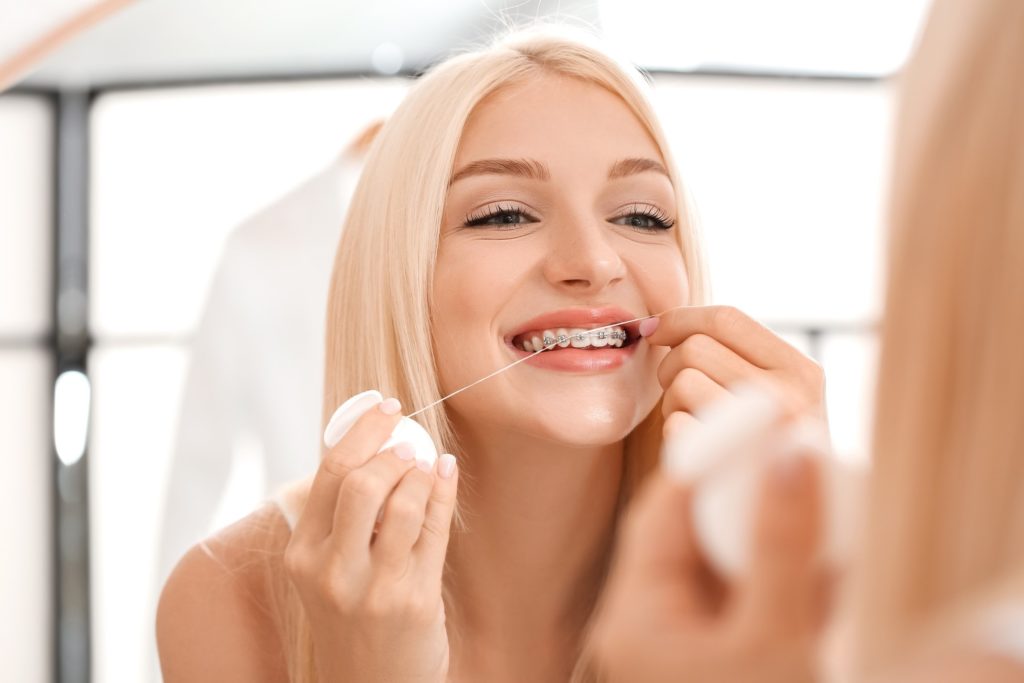 Although other forms of orthodontic treatment have gained popularity in recent years, traditional braces continue to be one of the most reliable and effective teeth-straightening solutions. Of course, the metal brackets and wires do require some changes to your oral hygiene routine. To prevent frustration, keep reading to learn an easy, 3-step guide to flossing with braces.
The 3-Step Guide to Easy Flossing with Braces
Whether you prefer to floss first thing in the morning or reserve it for your evening routine, follow these three steps:
Rinse your mouth thoroughly – Throughout the day, food particles can easily get lodged in your braces. Before going in with floss, swish with water for 30-60 seconds. This will help remove loose debris, allowing you to floss more effortlessly.
Invest in the right tools – If you are a fan of traditional floss, consider getting a floss threader that will allow you to seamlessly guide the strand between each wire. If you aren't a fan of traditional floss, invest in a water flosser, which can shave minutes off of your oral hygiene regimen.
Use your floss of choice – Naturally, the final step is to actually floss. With your floss threader and water flosser at the ready, the entire process should be much less headache-inducing.
What Happens If You Don't Floss?
If you choose not to floss, you run the risk of derailing your treatment plan and, more importantly, your oral health. Remember, brushing alone only cleans about 60% of the surface of your teeth – you need floss to remove food particles and debris from the other 40%! Skipping this essential oral hygiene step significantly increases your chances of developing a cavity, which will need to be swiftly treated with a filling or dental crown. Naturally, this can add time onto your original treatment plan, meaning you'll have to wait even longer to see your beautiful new smile. In short, don't get into the habit of not flossing.
A Few Dos and Don'ts for Oral Hygiene with Braces
There is no denying the importance of flossing. To keep your teeth and gums in pristine condition, however, it's important to keep a few additional best practices in mind:
DO brush for a full two minutes after each meal (or at least twice a day)
DON'T use a whitening toothpaste
DO keep up with your adjustment appointments with your orthodontist
DON'T eat hard, crunchy, or sticky foods
DO drink plenty of water
DON'T forget to wear a mouthguard when participating in sports
Flossing consistently is essential to keeping your teeth decay-free, even if you have braces. So, use the above tips to make the process as easy as possible!
About the Practice
Our team at Simply Orthodontics is here to help make the journey to your beautiful new smile as seamless and enjoyable as possible. Since many patients run into difficulties adjusting their oral hygiene regimen, we happily share our tips and tricks to making essential best practices, like flossing, easy and effective. If you have a question about taking care of your teeth with braces or want to schedule an appointment to start orthodontic treatment, don't hesitate to visit our website or call (508) 839-9350.