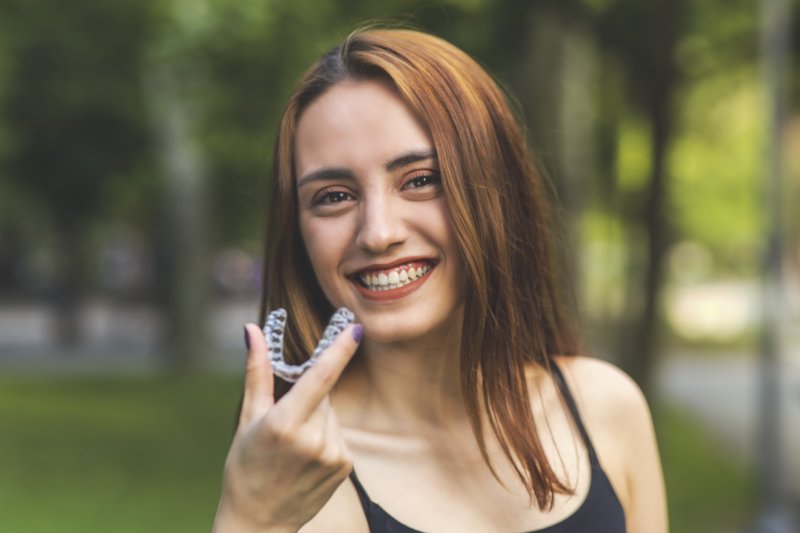 For over two full decades, Invisalign has helped countless patients fix their crooked, crowded, or gapped teeth with virtually invisible treatment. In fact, their clear aligners currently hold an impressive 96% satisfaction rate and can deliver jaw-dropping results in an average of 12 months! But those aren't the only reason they've remained one of the leading orthodontic treatments. Read on for three freedoms patients can enjoy with Invisalign in Grafton.
#1. No Dietary Restrictions
To prevent the metal brackets and wires from breaking, patients with traditional braces need to abide by a lengthy list of food restrictions, which includes apples, raw carrots, and gum. However, thanks to their completely removable trays, patients with Invisalign are free to indulge in all their favorite foods. This is especially beneficial around the holidays when candied pecans, marshmallows, and apple pies are around every corner!
#2. You Can Drink What You Want, Too
While sugary and acidic drinks are never good for your teeth and gums, deliciously sweet apple cider and peppermint hot chocolate are just a few staples that make the holiday season complete. Fortunately, you can spoil yourself with a glass or two guilt-free as long as you remove your aligners while consuming them. That way, your trays don't warp from exposure to the hot liquid and leave behind unsightly discoloration. Plus, it's a good idea to complete your oral hygiene routine and rinse them off before putting them back in your mouth.
#3. Low Maintenance Cleaning Routine
Removable trays make treatment with Invisalign hassle-free, especially when it comes to your dental care. Instead of cleaning around metal brackets and flossing through pesky wires, you can simply pop out your trays and complete your oral hygiene routine as you normally would! Just make sure to soak your aligners in an Invisalign-friendly cleaning solution while you do so to disinfect them properly.
With the holiday season in full swing, you want to focus on time with your loved ones, not what you can and can't do because of your orthodontic treatment. Fortunately, you can do just that thanks to Invisalign! Head into the new year with the beginning of your treatment underway by scheduling your initial consultation today.
About the Practice
Whether you struggle with minor misalignment, severely crowded teeth, or large gaps in your smile, Dr. Colleen Kristofor and Dr. Sam Alkhoury can help you achieve your smile goals with Invisalign. After all, they are both board-certified orthodontists, which is a testament to their extensive education and years of experience. So, if you are interested in straightening your teeth while simultaneously enjoying the freedoms of Invisalign, visit our website or give us a call at 508-839-9350.